"Demon Slayer: To The Swordsmith Village' also known as Demon Slayer Season 3 among fans because of repeated episodes from previous season & season 3 added episode in the movie. The movie is currently screening in Japan as a part of "World Tour" and it has earned 1.15 Billion Yen (US $8.7 Million) in just first three days of screening in Japan.
The Screenings of Demon Slayer: Swordsmith Village Arc have sold 810,000 tickets since opening last Friday and earned whooping 1.15 billion yen (about US$8.73 million).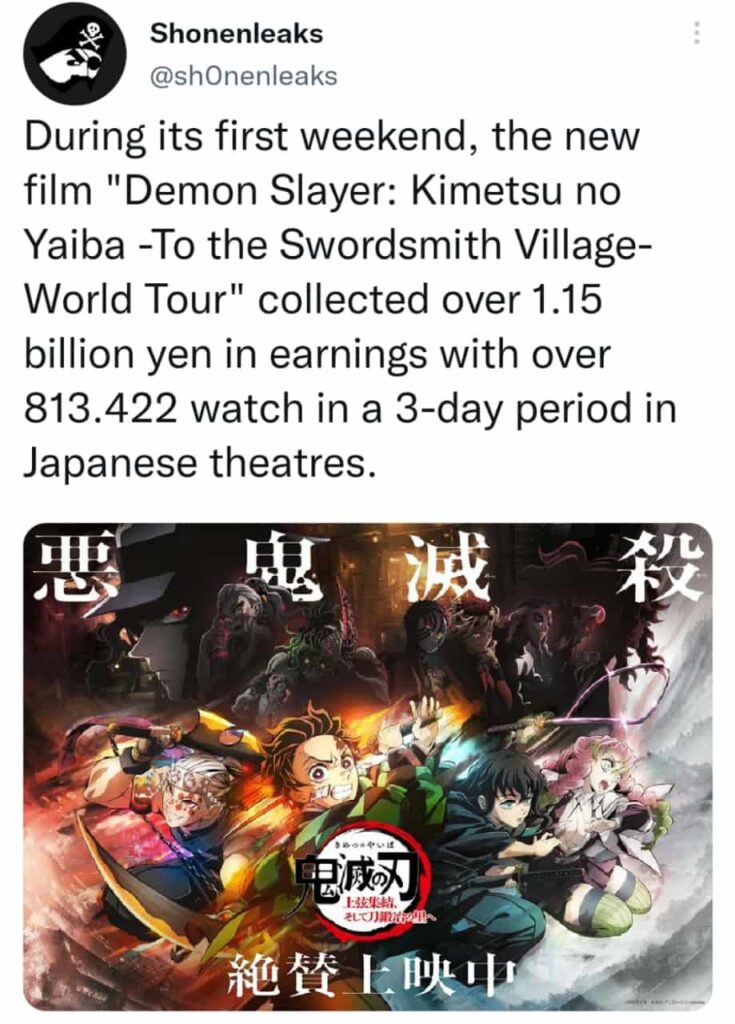 The movie is dominating the box-office and this is the best start of 2023 in Japan! It's a part of the "Demon Slayer World Tour" featuring the second season and the first episode of Swordsmith Village.
The previous movie from of the franchise, Demon Slayer: Mugen Trailer had a phenomenal run during its screening days and this new movie is nowhere near it but still Demon Slayer Swordsmith Village arc movie is making good numbers considering its just recap episodes and a new episode from season 3.
As we mentioned above, this movie is a part of "Demon Slayer: World Tour" and it will follow other 95 countries after Japan.
---
Demon Slayer: Kimetsu no Yaiba Swordsmith Village Arc will premiere on television in April with a one-hour special episode.
Comment down your thoughts on the earnings of Demon Slayer: Swordsmith Village arc movie. Also, don't forget to share this article with your friends.
We post daily anime & manga news articles, so make sure to follow us on Instagram. You can also check out our anime news page for latest updates.
Source: Manta Web