When we talk about Attack on Titan, it's mostly about breaking streaming servers, breaking records or being at the top of anime rankings. On it's first broadcast day of season 4 part 2, it crashed Crunchyroll servers. Moreover Attack on Titan Final Season Part 1 also won the top prize at Crunchyroll's Anime Awards by being the anime of the year. There are many big achievements and awards it holds. Adding one more achievement to the list, "The Rumbling" is now #1 in top 10 Spotify stream rankings for Winter 2022 anime openings/endings by Animecorner.
Winter 2022 Top Anime Openings/Endings list is the collected stream data to see which ones are most popular on Spotify. Although it's not officially released by Spotify still it shows the most popular anime opening/ending.
Animecorner makes this list every year and they already posted winter 2022 anime openings/ending list. In this list, all song streams are counted as of February 21, 2022.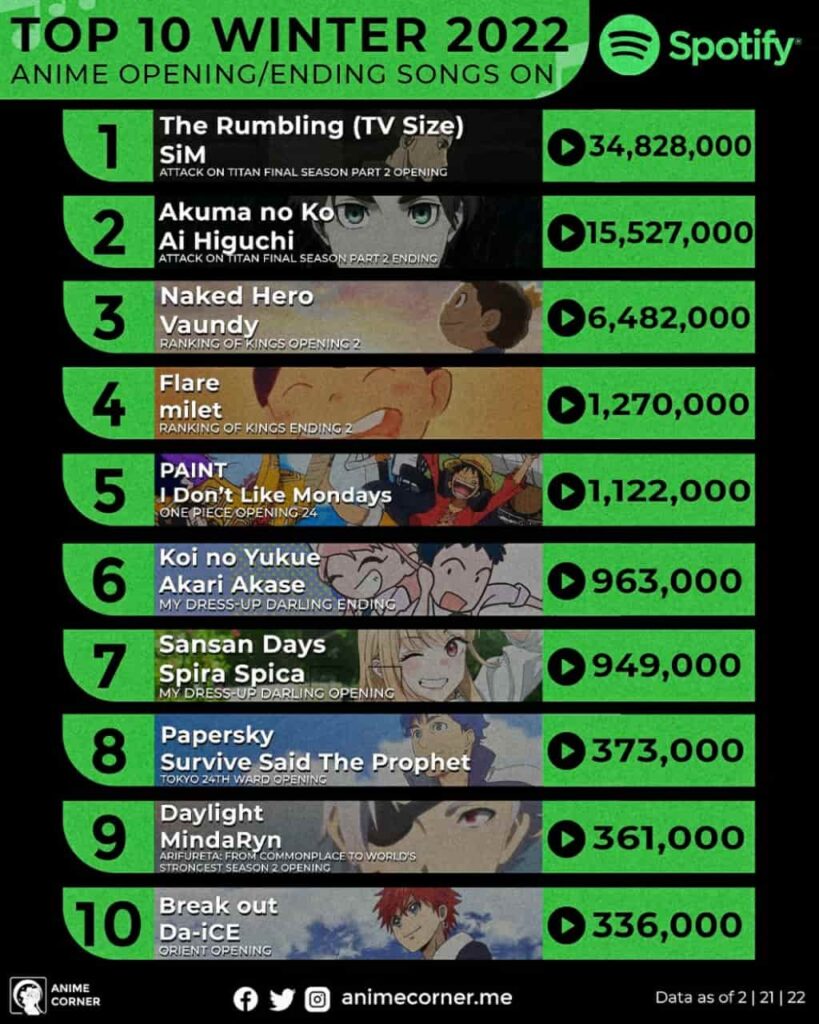 Attack on Titan is leading this list with a huge margin. AOT Final Season Part 2 opening "The Rumbling" by SiM holding the first position with 34,828,000 streams in the Spotify list and still increasing. The second position also followed by the ending of the same anime, "Akuma no Ko". Keep in mind all mentioned song counted as of February 21, 2022.
Looking at Attack on Titan Final Season Part 2 opening, "The Rumbling", holding first position is no surprise. It already has 39 Million views on YouTube with more than 1 Million likes.
We will update you when it will hit 40 Million + on YouTube. Till then follow us on Instagram for more anime & manga updates.