Fall all over India can't hold their excitement after hearing the news regarding the brand new Dragon Ball Super: Super Hero (DBS: SH) movie officially getting Hindi dub with the release date set to August 26.
Yesterday, the reputed sources of Dragon ball community, @Dbz_chronicles & @_Whixer_ posted a story and feed posts on their Instagram confirming that the Hindi dubbing of DBS: Super Hero is in works.
According to them, "Dragon Ball Super: Super Hero" Movie Official HINDI DUB is in progress & may release if it gets complete on Time!
Dubbing is on. But, if there is some technical problems, it doesn't complete on time, or the certificate doesn't get issued on time, then it might not release in theatres with Hindi Dub. There is no 100% guarantee that it will release in Hindi in theatres.

There has been no talks to push the Indian release date for now.

@Dbs_chronicles & @_Whixer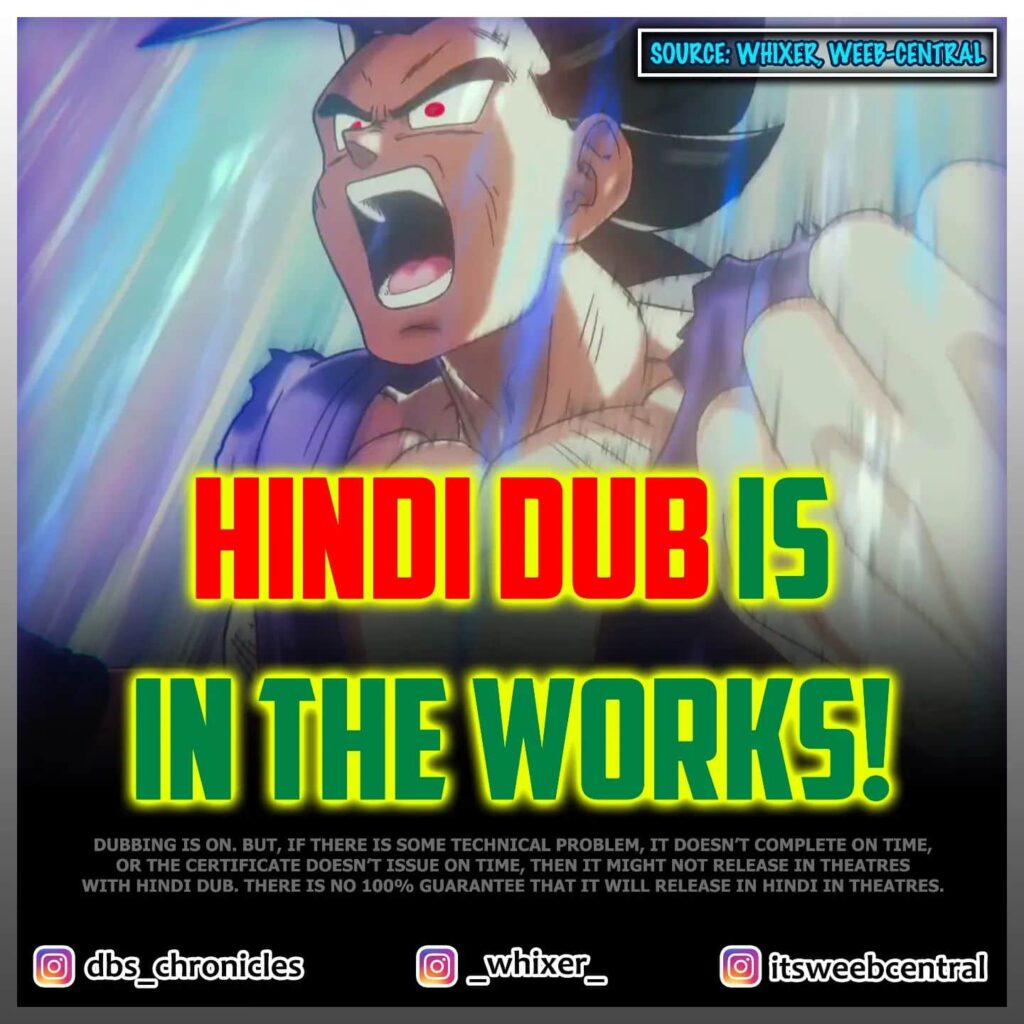 Furthermore, @Dbs_chronicles talked about the change that might occur in the cast for DBS: Super Hero hindi dub.
Do NOT expect the voice artists who dubbed for Cartoon Network's DBZ, DBS to return for Sony's Super Hero movie in the same roles. Both are two different companies, two different studios, hence, two different groups of artists.

@Dbs_chronicles
And it makes sense as both are two different companies and both have different group of artists. Well, it's not completely confirmed, we need to wait for few more days to get words for officials. Till then, make plans with your boys to hit the theaters for DBS: Super Hero movie.
Dragon Ball Super: Super Hero landed in theaters of Japan on June 11 and performed decent during its initial run. Now the Dragon Ball franchise is all set to release DBS: Super Hero movie in international theaters.
Are you excited for Dragon Ball Super: Super Hero hindi dub? Feel free to comment down and let us know what do you think, also don't forget to share this article with your friends.
We post daily anime & manga news articles, so make sure to follow us on Instagram. You can also check out our anime news page for latest updates.