Many websites are claiming the grossed collection of DBS: Super Hero in Indian Box Office, which is around Rs 3-4 crore on Friday, Rs 3-4.25 crore on Saturday and Rs 3.60 crore on Sunday. However, these reports are false & fake as no official reports have been out and reputed sources do not agree with the stated collection.
Dragon Ball Super: Super Hero movie debuted in Indian Box Office on August 26 and it made fans go crazy as DBS: Super Hero Opening day in United States broke many records surpassing great anime movies like Jujutsu Kaisen 0 & Demon Slayer: Mugen Train.
Dbs_Chronicles shared his words on the fake Collection reports going around for DBS: Super Hero. You can see the sites sharing false numbers below: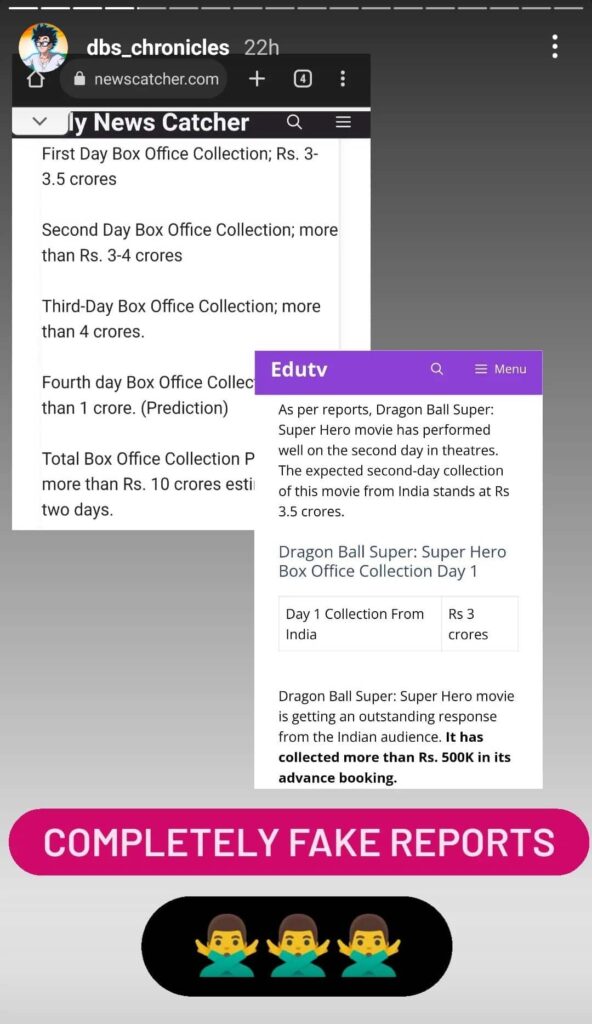 Even though the hype DBS: Super Hero had, it still was not able to surpass Jujutsu Kaisen as best opening day & best opening weekend for anime in Indian Box Office.
It's clear that these reports are false, still we don't believe collection reports coming from anyone other than trusted & reputed sources or officials.
The official DBS: Super Hero Indian Box Office Collection reports are most likely to go out in a day or so.
Source: Dbs_Chronicles