A great news for Solo leveling fans is surfacing on social media. The popular Manhwa, Solo Leveling is returning with two bonus chapters, moreover, a special spin-off series is also in works.
Solo Leveling is without a doubt one of the best Manhwa out there with stunning illustrations. The manhwa ended after almost 6 years with Chapter 179, which released on 30th December, 2021.
As you all know the Illustrator of Solo leveling, Jang Sung Rak, passed away months away and in the memory of deceased illustration two bonus chapters of Solo Leveling will be released on January 20. Jang Sung Rak was the manhwa illustrator and also the CEO of Redice Studio.
Hiroyuki Sawano will be responsible for the music in Solo leveling anime adaptation and more details about the chapters will be announced later.
Along with the release of Bonus chapters, a spin-off of Solo Leveling has also been announced.
Studio REDICE is preparing to release a spin-off of the "Solo Leveling", in order to honor the memory of its illustrator Chan-Song Rak (Dubu). More details will be announced soon.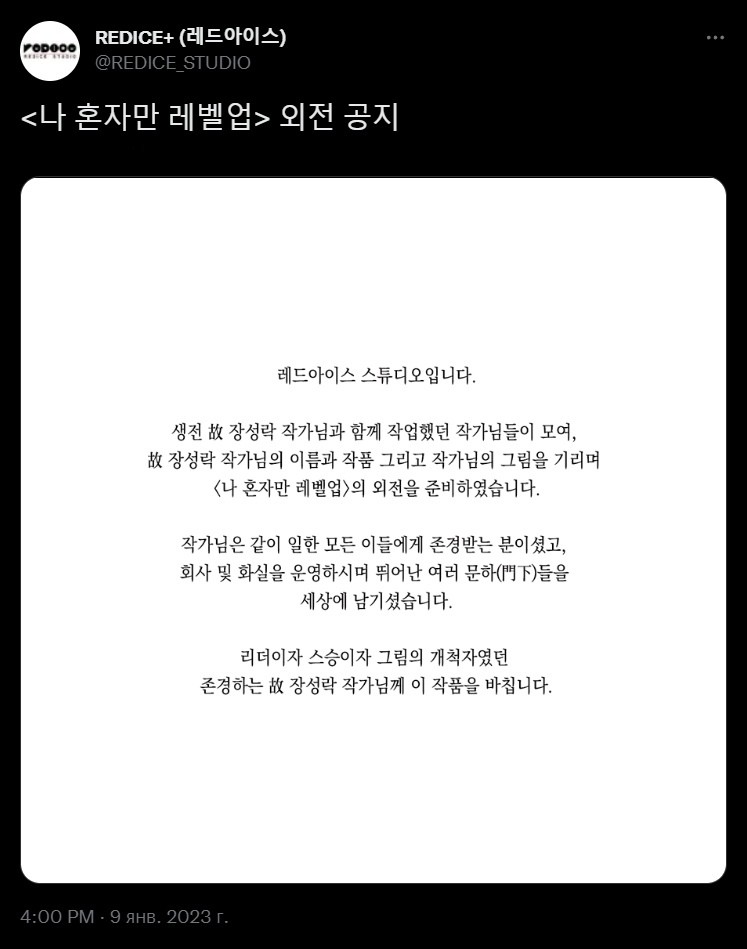 Are you excited for the returning of Solo Leveling with extra chapters and spin-off? Feel free to comment down and let us know what do you think, also don't forget to share this article with your friends.
We post daily anime & manga news articles, so make sure to follow us on Instagram. You can also check out our anime news page for latest updates.