Tokyo Revengers is one of the well-received anime of the previous year and the season 1 of anime ended on September 19 with a cliffhanger. Now everyone is waiting for the season 2 and it seems like some false information is spreading in the Tokyo Revengers community regarding the release date.
Yesterday a big news came from the official Twitter handle of Tokyo Revengers anime. The news was about the release date of season 2 along with a new visual. As per officials, Tokyo Revengers season 2 is releasing in January 2023. However, some misinformation are spreading in the community that Tokyo Revengers season 2 will release next month, 3 July.
You can find fans everywhere, who believes Tokyo Revengers season 2 is going to release on 3rd July, even many are in the comment section of our Instagram post about the release of TR season 2.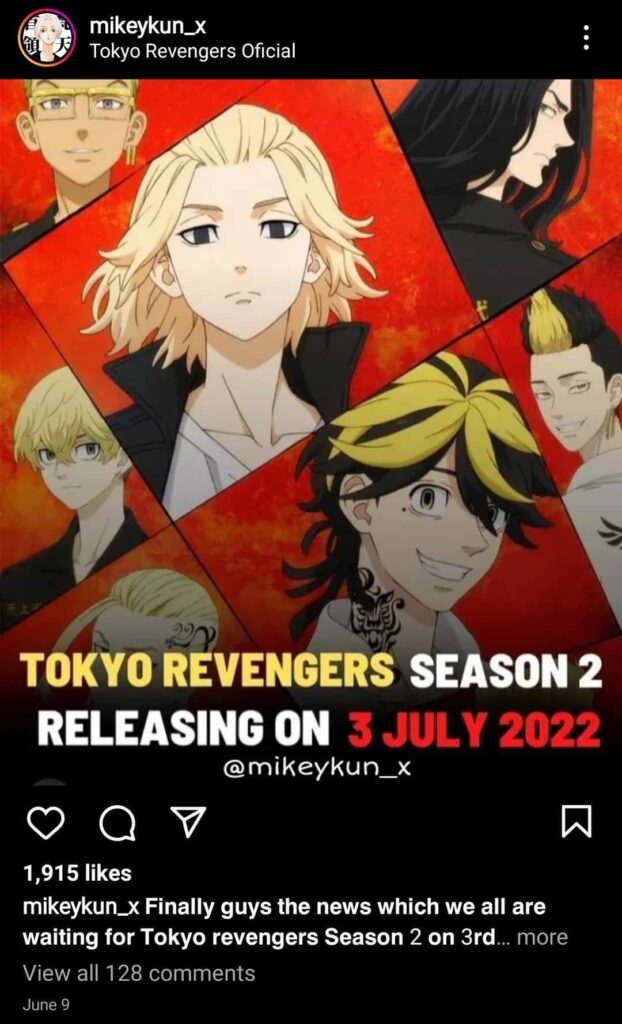 It's not there fault, some Tokyo Revengers fan pages on Instagram started spreading this false information and it went viral. In December 2021, the makers of the series confirmed that Tokyo Revengers Season 2 is in production but no release date was announced.
So, my guess is that the fake news about Tokyo Revengers season 2 release in July 3 strated as a April fool joke and later some fan pages picked up that post without any knowledge and started posting it. Or may be they got this fake release date info from their non-reliable sources.
Anyway, it doesn't matter as official website of Tokyo Revengers anime already gave us the release date for season 2. Share this article with your friends who believes in this fake info.
We post daily anime & manga news, so make sure to follow us on Instagram. You can also check out our news page for latest updates.