Tokyo Revengers anime season 1 finished airing last year and was the most widely-praised anime in 2021. The anime was trending not only in Japan but also on other countries as well. In India Tokyo Revengers have really big fanbase as compared to other countries may be because of how Tokyo Revengers shows signs of Hinduism.
The same thing observed in the new giant golden status of Sano Manjiro aka Mikey. The giant golden statue erected in a reclining position similar to Lord Buddha. A prayer ceremony was also held at the time of the event in front of the Mikey statue to pray for the success and safety of the event. But why they made Mikey Statue look similar to Buddha statue?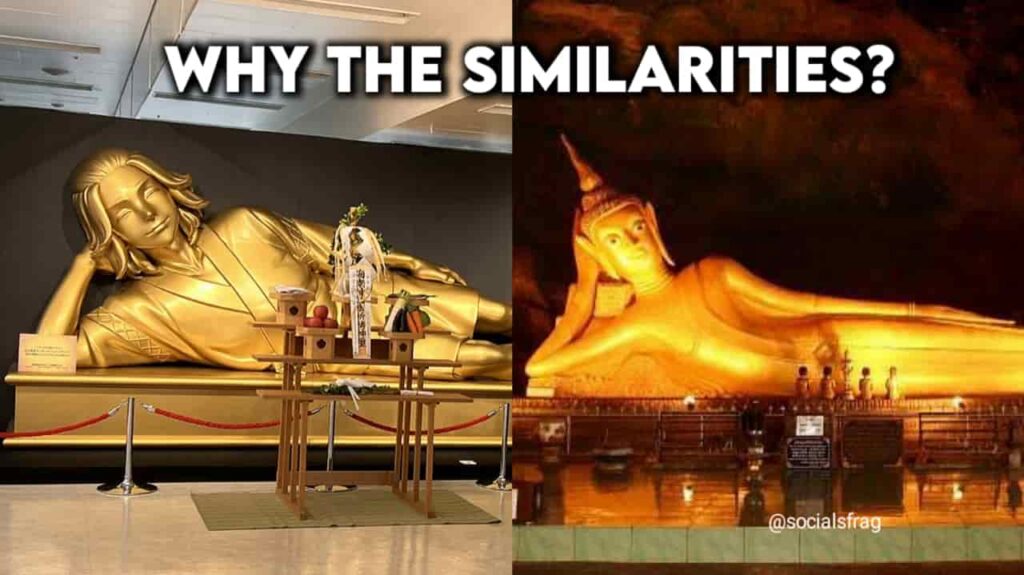 Sano Manjiro aka Mikey is the second main character of the series and he plays an important role in the story. However, with the reveal of giant golden statue of Mikey, fans started pointing out it's similarities with Buddha statue.
Talking about Buddha statue, the reclining Buddha is an image represents the historical Buddha during his last illness. After the Buddha's death, his followers decide to build a statue of him lying down in reclining position.
Some fans are not liking this statue. They are like, "Why Mikey is being treated as some kind of God?"
Mikey Golden Statue and Buddha statue resemblance
There are many signs of Hindu mythology in Tokyo Revengers and there are many reddit posts to prove it. The Toman gangs' link to Buddhism can also seen throughout the anime series, including their meeting place being a local religious shrine. There are chances that the Mikey golden statue was built keeping in mind the 'Swastika' sign of Tokyo Manji Gang. It is a symbol of divinity & spirituality in religions like Hinduism, Buddhism and Jainism.
We post daily latest Anime & Manga news and reviews here and also on our Instagram. So you can follow us on Instagram and also don't forget to share this article with your friends