One of the very popular pirated website for free anime streaming Animixplay has shut down, not because of Copyright or anything but because they are not motivated to carry on.
The popularity of Anime is exponentially growing as many anime like Chainsaw Man and Attack On Titan are taking over the internet. With this exponential growth of anime, many new anime streaming websites are getting clout and it's really not easy to handle the traffic and maintain the servers.
The main reason behind the shut down of AniMixPlay is also maintenance. Their scrapper system was broken since several days ago and they have decided that shutting down is the only option.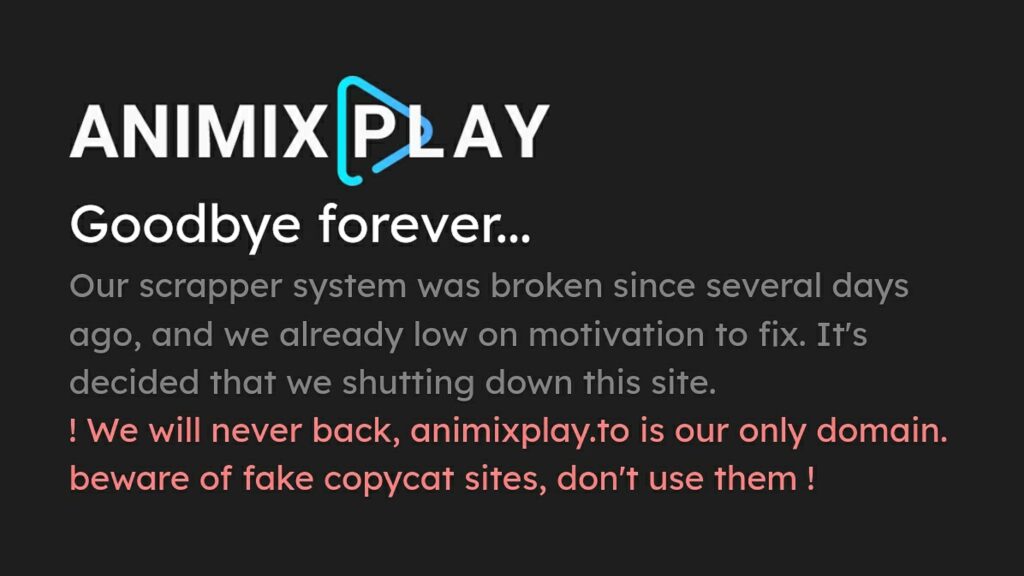 "Scrapping another website need constant maintenance, any structure changes or protection measure on other site can broke our system. Everytime we make workaround to fix it add additional mess, now the scrapper already too messy that this problem might need a total rework to fix. We are not motivated for doing this. Our service quality already getting worse and worse that we feel it's better if the site just shutdown and people go somewhere better." AniMixPlay added.
AniMixPlay streamed anime by scrapping other websites. There are a lot of other apps and websites that do the same, like legal services where anime originally licensed, or another pirate sites where they get their streams from.
AniMixPlay.to Alternatives
With the sad goodbye, AniMixPlay also gave link to their alternatives where anime can be streamed online. Here's the list below:
9anime: Largest anime library
Zoro.to: Soft sub, modern website
Animepahe: Mini encodes, nice for download
Crunchyroll: Largest licensed library, safe & reliable
Reddit list More detailed list of other streaming services
What are your thoughts on the shutdown of AniMixPlay.to? Comment down and let us know, also don't forget to share this article with your friends.
We post daily anime & manga news articles, so make sure to follow us on Instagram. You can also check out our anime news page for latest updates.