Being an anime fan, i myself tried to draw manga and i bet many of you also tried drawing Manga. It is difficult though, creating manga took too much eforts but recently we got a latest news from Shounen Jump. The news is about this new app that they named World maker.
Shonen Jump will be launching this new app "World Maker", that will let you create your own manga without having to draw. There is a beta testing program is about to start for this app. In this article we will talk about how you can register to be a beta tester for this app.
What is the use of World Maker app?
World Maker, an app that let's users create their own manga without having to draw, using default backgrounds, effects, characters and etcetera.
World Maker will provide you tools to become a mangaka (the one who write manga).
Features of World Maker app
World Maker offers the following default options to its users to be able to create quick and easy manga stories:
It is possible to write the text and have it appear in predetermined speech bubbles.
There are also base character designs to include in the vignettes.
In the same way, environments can be found to give a location to the action.
Effects and onomatopoeia finally help to give the final touches to each user's creations.
How to use World Maker app?
In first step you will write script of your manga. "World Maker" app will automatically divide your script into frames (manga panels). Than you will be able to place character images from "World Maker" app library. Also, there will be an option to add your image in your manga as well.
Currently, app has more than 600,000 images of backgrounds, effects and characters you can choose from to express yourself in manga. Easy right? Yea, because Shonen Jump is itself making and releasing this app.
When "World Maker" will be released?
About the lauch, the app will be realesed in two phase. The closed beta and open beta phase for World Maker app. Closed beta will be for selected users and open beta will be available for eveyone.
World Maker app beta version will release on September 22.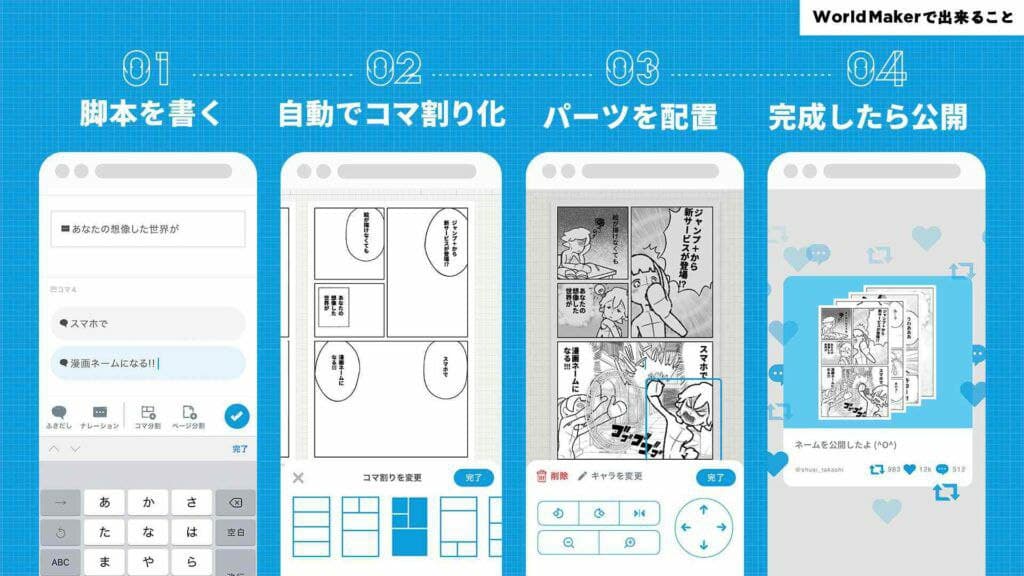 How to publish your manga in Shonen Jump + App
As part of the launch of the World Maker beta, Shonen Jump will choose the two best stories created, which will be drawn by Shiro Usazaki (the artist of "Act-Age") or Kouji Ooishi ("Inumarudashi") and later published in the app. by Shonen Jump +
Also read: Many Anime Studios Are Closing Due To COVID Infection